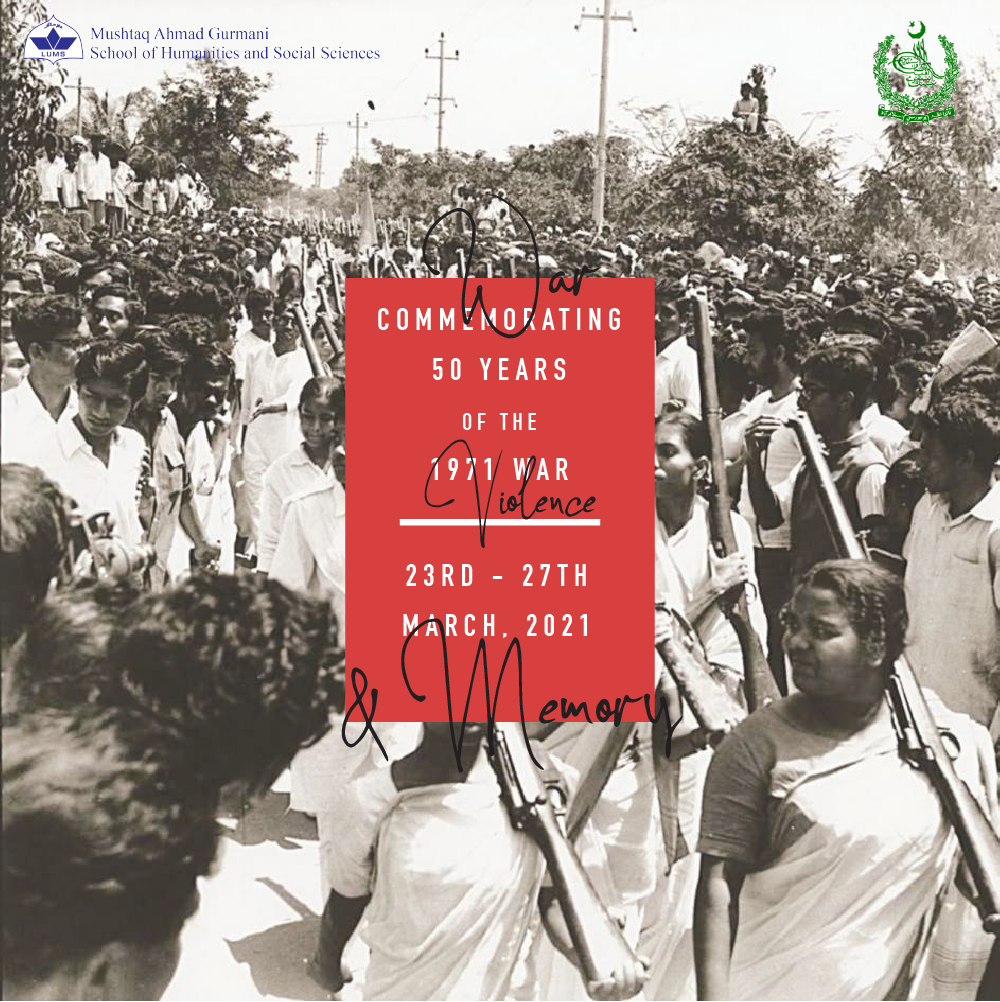 By: Zoha Fareed Chishti '23, Aiza Nadeem '24, and  Zainaab Basil '24
Towards the end of the day, on the 20th of March, the LUMS community received an email from the Dean's Office MGSHSS notifying the cancellation of the much-anticipated conference series "War, Violence, and Memory: Commemorating 50 Years of the 1971 War." The email stated that the cancellation was a result of "unavoidable circumstances." The conference series was to be held virtually, from 23rd March to 27th March, under the moderation of Dr. Ali Usman Qasmi, assistant professor of History MGSHSS, and Dr. Ali Raza, assistant professor of History MGSHSS.
In collaboration with the National Institute of Pakistan Studies (NIPS) at the Quaid-e-Azam University, the talk was organized to commemorate 50 years of the 1971 Bangladesh Liberation war and bring to light its various nuances. The conference's schedule boasted of a list of accomplished speakers and academics from across the globe, particularly from Bangladesh. Amongst the most highlighted, and awaited events of the series was a panel discussion on war, violence, and genocide. These were supplemented by other promising conversations on the schedule, including topics like, but not limited to, the intersection of gender, Islam, and nationhood. 
Another email, addressing concerns about academic freedom, was sent to the LUMS community by the university's Vice Chancellor, Mr Arshad Ahmad on the 27th of March. Ahmad stated that, "The space for critical discourse on certain topics is very small, or in some cases not permitted at all."  The email emphasised the need to protect certain shared societal values that define us. He also added that, "To promote a healthy discourse on contentious issues and to heal through truth and reconciliation, scholarship needs protection against arbitrary interference."  The email reiterated that LUMS, as an institution, believes in academic freedom. The conference's organising committee declined to comment but will be putting out a statement soon.
The student body and the faculty alike have expressed their shock and sadness at this unfortunate turn of events. The cancellation also prompted responses from a number of prominent academics, such as Raza Rumi and Ammar Ali Jan. Many drew comparisons to the time when an event titled 'Unsilencing Balochistan', with an intended focus on missing persons from the province, was called off LUMS in 2015. Questions about academic freedom, state censorship, and curtailment have since arisen on various social media platforms. 
Note: This is a developing story.