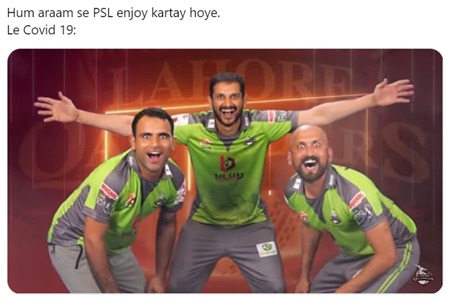 On March 4, 2021 the remaining matches of the sixth edition of the Pakistan Super League (PSL) were postponed due to a COVID outbreak among the players. Considering everything the pandemic affected, the arena of sport and especially cricket in Pakistan was the one thing, which served to distract people from the anxieties of post-COVID life and online learning. Although the decision was made with regards to ensuring players' safety, LUMS' avid cricket watchers mourned the postponement of what seemed to be the only form of escape in a stressful semester.
Before the matches were postponed, a forum where the excitement of LUMS' students to attend the matches could be seen was LDF as it was flooded with frantic requests for tickets, indicating people's desperation to experience an in-person match.
Faaiz Gilani '22 said, "My friends were posting on LDF asking for tickets since they sold out so fast. This shows how excited people were and how everyone wanted to go."
However, the postponement of the PSL and the current halt on crowd matches contributed to Muhammad Faizan '22 saying, "When cricket came back to Pakistan after a really long time it was such a new experience for us, but it's so disappointing that things are back to the way they were." 
In the past, the PSL has also served play PG Slot as a break from the rigour of academics and an escape from mid semester stress. Students were denied this release of that tension this year, which is especially disheartening considering the online nature of this semester and the subsequent stress resulting from it.
Mustafeez Ahmad '23 elaborated on how significant the PSL was as an outlet for academic anxiety and said, "Considering the context of this semester, PSL was the only thing we were looking forward to. Even if someone wasn't the biggest cricket judi online fan, it was still fun to watch matches. After its cancellation, the semester became incredibly monotonous."
Students also felt that the PSL's postponement also denied them a valuable mechanism for staying in touch with fellow students and maintaining the sense of community that an online semester has robbed so many of us of. Whether it was through sharing memes or mocking whoever's city was losing, the PSL was a perfect opportunity for students to communicate outside of classes with one another.
Elaborating on how the PSL served to connect him with fellow cricket fans, Usama Khan '23 said, "Because of the PSL, I began connecting more with friends I didn't really talk to on a daily basis. It was a great bonding experience."
The PSL also allowed students to connect with each other through joining fantasy leagues for the tournament and competing with friends. Gilani '22, who studiously curated his own team with friends for the PSL 2021, said, "It was something that connected us. We would continuously be talking. Even when we weren't meeting one another we would be texting each other."
Khan '22 also got involved with recreational activities as a consequence of the PSL and said, "Since we are all from different cities it was always fun to place bets on matches over who would win." However, due to the PSL's postponement this excuse for connecting with fellow cricket fans and opportunity for reducing the isolation of an online semester came to a standstill.
For hostelites the PSL also promoted feelings of community and connection in a more physical sense. Before the matches were cancelled, even the most introverted and socially awkward student could be found sitting at a table in KDC with their eyes rapturously fixed on the television screen. Speaking of this experience Faizan '22 said, "Whenever a match was on people on campus would get together in KDC and watch matches and it used to be really fun." Once the PSL was cancelled, however, this communal gathering and social interaction ended.
Although the remaining matches of the PSL have been rescheduled for a slot in the beginning of June, this timing means that it will not be able to serve as an emotional and social outlet for isolated students in the midst of an exhausting online semester.