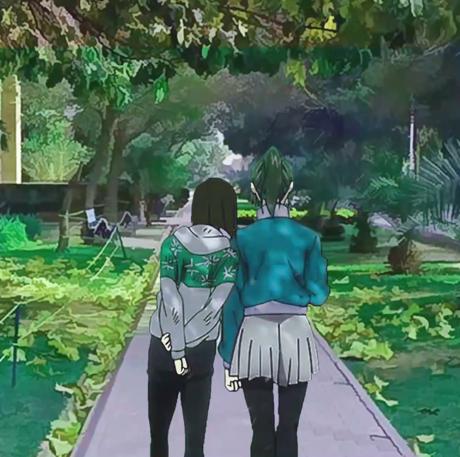 A viral tweet recently referenced, "you are faced with more peer pressure to watch anime than to do drugs," and the popularity of anime today is a testament to that. The formation of an Anime and Manga society at LUMS seemed inevitable, yet it is the labor of a group of individuals devoted to the arts. 
The Executive Council (EC) members of the Anime and Manga at LUMS (AML) who met with The Post described how the advent of the society was based purely on a shared love of anime. "Everyone watches anime, whether they want to admit it or not," says Shahir Shamim '22, Treasurer AML. They did not imagine that what they would initially dismiss as a joke would blossom into the society it has today. At the society, they wish to create a space where both anime-enthusiasts and first-time viewers can come together to appreciate anime and manga.
Discussing the potential of anime as an art form, Shamim describes how it is inherently nostalgic. Compared to other animated forms, such as cartoons,  anime places heavy emphasis on the aesthetic value of the art produced. Characters carry the elegance their cartoon counterparts lack. The imagery is dreamy. The magical realism present allows the viewer to escape to a fantasy realm for the duration of the animation– much like the experience of watching cartoons as a child. This is why, perhaps, the experience evokes such sentimentality for viewers in addition to the visuals. 
This is precisely the effect of the animated video of LUMS (https://m.facebook.com/story.php?story_fbid=102949861868457&id=102748698555240)  on those who viewed it. By virtue of the medium in which it was produced, new fantastical opportunities for viewing LUMS were presented. Possibilities about spaces on campus that had not existed before emerged. Similarly, nostalgia was evoked for spaces on campus with which people are deeply familiar. 
The larger anime community is not without its issues. Bismah Rizwan '23, General Secretary AML, acknowledges how she would initially feel embarrassed at watching anime given the treatment of women in some visuals. Dually, she felt the pressure of not being a true fan if she was not appreciative of the same animes.  ''The gendered nature of anime spaces was something which always made me uncomfortable, and we sought to rectify that with our society," says Rizwan. 
The society promises to be an inclusive space for all regardless of how people identify and promote revising mainstream thought within the community. The Executive council at the Society meticulously chose each member to ensure they align with this vision. "Care was taken in the choosing of our initial team. We only wanted to induct members who shared the values of inclusivity and openness which we cherish as a society," detailed Rizwan. 
Anime embraces the idea of 'weird,' which the society does not shy away from discussing. Ujwah Shahid '23, Society Head, encourages discourse amongst members about the themes prevalent in anime and the underlying sub currents. Analyzing these themes remains essential for her as what we deem weird or not has wider social ramifications. 
For Shahid, the possibilities within the society are endless. An on-campus Comic-Con/ Cosplay is amongst the exciting ventures currently entertained by the society. Shahid also hopes to hold conventions that seriously acknowledge anime as an art form and the critique which stems from that recognition. "Once you begin a student-based society on anime, you realize there is unlimited potential for possible activities." The anime society is also hopeful of providing forums where artists and writers produce their scripts and animations. This would be competitive to encourage participation from all interested parties. 
As anime does not demand a considerable budget, it is a lucrative option for budding artists and student-based production projects. Future events at the society encourage people to tap into their creativity and really contemplate what anime would look like for them. Shahid highlighted how opportunities like these would spotlight various local anime production houses in Pakistan. "There is not yet a suitable platform for production houses, such as Mano Studios to receive acclaim and be appreciated for their work."  For her, the society would ideally serve as an avenue for progression into the industry for artists if that is what they desired. 
Ultimately, the story of the anime and manga society here at LUMS is that of passion. Rarely does one get to visit spaces brimming with enthusiasm. It is a refreshing change from the emphasis on productivity culture, which characterizes most other societies at LUMS. The society invites you to share in their love for anime and experiment with your interests.