There isn't much Pakistanis do better than prescribing natural remedies, so it came as no surprise when sage advice to inhale clove steam and apply olive oil floated around on social media in the first days of April. What was surprising, however, was the reason behind it: the sudden spell of dry weather entrancing Lahore, Islamabad and their adjacent cities. It seemed as though Mother Nature was playing an elaborate trick.
A cloud of complaints rose over central Punjab, with masses of people claiming afflictions that ranged from persistent nosebleeds to aggravated allergies (their prevalence even gave rise to Internet memes, perhaps the only other thing we do best). But what might have been considered to be nothing more than a symptom of our predictably variable weather, may actually signify our embroilment in the consequences of global climate change.
Simrah Nasir '24 didn't think much of the recurrent dry winds at campus, nor the styes that they triggered. Originally from Karachi and staying in the LUMS hostels, she had faced these before, but soon became concerned when they wouldn't subside. "They usually get fixed on their own in three to four days, but this one wasn't going so I had to get it checked, and it was worse than the ones before," she says.
Similarly, Maheen Azmat '24 broke out in welts. A new phenomenon for her, "I've also never felt the air be so dry, and my skin so itchy before either." She continues to say, "Sometime in the morning specifically, the air feels a lot like smoke." Yet, she differentiates this from the usual smog.
In addition, a survey conducted by The Post that garnered 37 responses shows 81.1% of respondents claim to be suffering from dry skin, and 56.8% from a sore throat. For many, these symptoms are still persisting.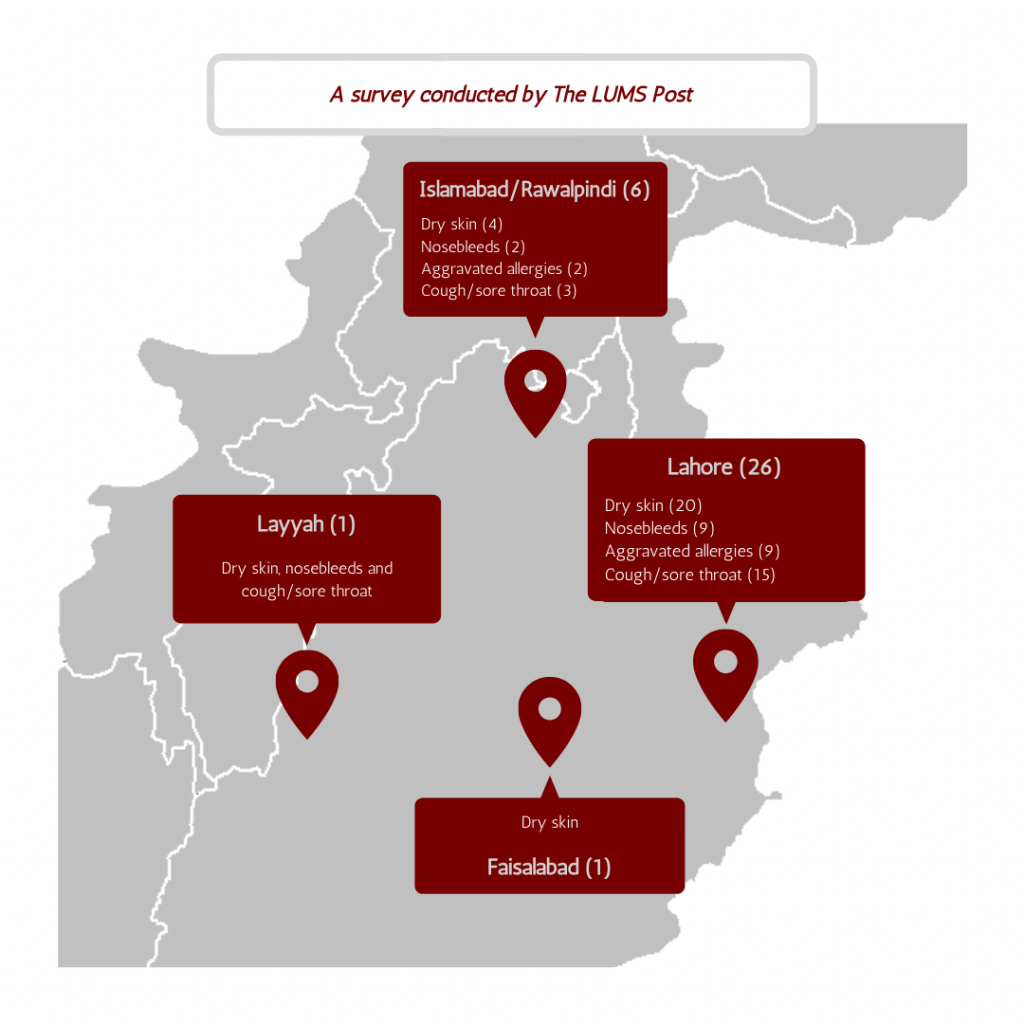 Yet, with little investigation into the matter save national forecasts, and solutions targeted solely at combating symptoms, this abnormal dryness is considered an isolated occurrence, with no evident cause or consequence. Our weather, much like our traffic, is just predictably unpredictable.
Aiman Rahman '23 says, "I think it has got to do with the mercurial weather patterns these days."
"I heard that it happens every year but we're exaggerating it because we're too scared of the pandemic already," mentions Raheema Naeem '24.
On the other hand, Ibrahim Janjua '24 contextualises this phenomenon by drawing comparisons with unusual weather patterns in other cities. Lahore had a colder winter than Islamabad relative to the trend, he mentions, but Quetta was as cold as 7°C while the summer is settling in Lahore. He elaborates, "The original altitude and wind pattern is there, but vegetation and concrete-dense cities do affect how precipitation is increasingly irregular. And there's periods when the weather is just unusual."
When asked about the root cause, he unequivocally attributes it to climate change, saying, "Even if weather is unpredictable, if it deviates beyond the climatic trends often, it signifies additional factors at play."
Nasir '24 also references the unexpected heatwaves striking Karachi in March, and corroborates Janjua's '24 opinion of the repercussions of climate change.
"That day we were all sitting together on campus and someone was like, it gets really cold at night even though it's pretty hot in the day," she says, citing the decreased pollution during lockdown as a possible reason. However, research into this observation produced no credible findings or evidence-based suggestions about the possible cause. And considering weather extremities are a popular indicator of climate change, the disregard reveals how seriously we're taking the earth's warning signs.
As it turns out, nature might not be the cruel magician initially assumed, susceptible to its own inexplicable whims. The trick is our own actions, and it is made successful by our easy gullibility into believing our actions carry no weight. But as the world seems doomed to a future environmental catastrophe, it is imperative for us to break the spell of our own casting.